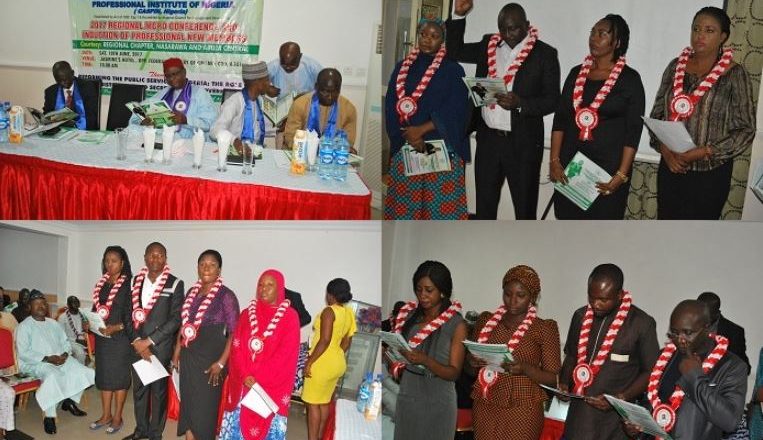 Feb 06, 2019
administrator
0
No less than 80 New Members have opted into professional membership fold of Corporate Administrators & Secretaries Professional Institute Nigeria during her 2017 Regional MCPD Conference and Induction of New members on 10th June 2017 at Abuja.
The Regional Conference entitled " Reforming the Public Service in Nigeria: The Role of Administrators and Secretaries in Governance was convened by the Regional Coordinator for Nasarawa and Abuja Central Dr. Abdullahi Mohammed. In his MCPD lecture " Experience with Public Service Reforms in Nigeria, Dr. Abdullahi Mohammed took the full to capacity of participants on a journey of the Present Administration reform agenda on Accountability and transparency in delivering services to the public. He defined Reform in its simple term as the readjustment or repositioning of an organization In order to be able to effectively and efficiently meet the dynamism and challenges of its universe of operations. He charged Administrators and Secretaries to see their official conduct and task as accountable and which must be put to public scrutiny and be subjected to another's oversight, direction or request to provide information or justification for their actions and decisions and which must be in public interest as against personal interest ( Broven 2006). He clearly stated that for decades, the government has overlooked one factor in her quest for reformation of the Public sector, hence the " Reformer need to be reformed" for Accountability, Transparency and Good governance to take its rightful place in our system.
Other Guest speakers at the event who made their remarks in line with the Institute's drive to uplift the Spirit of her old and new members towards being good ambassadors to the organizations they serve and Nigeria at large were Sir Obieze, former Director of NSIWC, Barr. OdilliAchilike, Rep of the Acting Present Prof. G .U Nwanguma and others, Six Fellows, and Seventy Four Full and Associate Professional Members were Inducted as professional members of CASPIN during the Investiture Processes.
Other Distinguished personnel of the Institute who made the event a great success were the Chief Learning Officer of the Institute cadm: Fredrick Sunday N, The South East Coordinator cadm: Barnabas Iwuoha,the State coordinators of the Institute in Nigeria and Ghana cadm: Sally Mbroh – Accra Ghana, cadm: Moses Emmanuel – Kogi , cadm: AtikuShamsedeen – Kano, cadm: MahmadMuhktar – VON Abuja, cadm: Jacobs E. Sandra – NLRC Abuja, cadm: Nwokoma Richard – Imo, cadm: Jacintha Ada Orah(Mrs) – FCE Okene, cadm: AriyoAlawode – Jos, cadmAsamoweiTaribolou – FU Otuoke1, cadm: felaghaTarimobowei – Bayelsa, cadm: Ejah M. Omachie FCT COE Zuba, cadm: Okeke C. Joseph- Rivers, cadm: Mrstawose B.B. Lydia- Ekiti, cadm: Grace N. Agwu – Enugu COT (T), cadm: Abdullahi A. Ushama- Niger
Names of 2017 NAS/ABJ central Inductees held on 10th June 2017 at Abuja
1 MUHAMMAD SANUSI YA'U
2 DR. LENKA PHILIP MUSA
3 EGBUNU SAMUEL NDA
4 EGBUNU FLORENCE OLUWATOYIN
5 GUNSHIN YARLINGS
6 OLU-IRABOR EDNA OTAHOH
7 UMAR HAJARA MOHAMMED
8 ANCHE EMMANUEL ISHAYA
9 JAFAR MOHAMMED TUKUR
10 DRESSMAN EBIERE DESI
11 PAM ILIYA CHOJI
12 UJAH CECILIA OJONYA
13 OBUENWE UFUOMA PHILOMENA
14 LAWAL BAIDU AHMAD
15 AMINU BASHARI NURA
16 GARBA TIJJANI JINGINA
17 ADAMU ALIYU
18 ZOEMLONG SABASTINE TSENKE
19 EZEUGWU NNEKA LORETTA
20 SURAJO BASHIR
21 ABDULLAHI FATI
22 AJIYA RAPHAEL
23 ABESADU BARNABAS ZASHIMI
24 NDAGI GIDEON KOLO
25 ANKELI MONICA ALEXANDER
26 FIDELIS-IRILE SUSAN OMOSO
27. MUHAMMED-SOSO OJOCHENEMI NADIA
28 SHEHU RILWANU
29 BADARU SALIHU ABUBAKAR
30 SHEHU HUSSAINA OTHMAN
31 MOHAMMED YAHAYA MASAGA
32 SALIHU BELLO
33 ADAMU KATHERINE
34 MISAL DABURI BELLO
35 NWANEGBO CHINWE VIVIAN
36 ISMAIL SANI MOHAMMED
37 SURANNA FILIMON YAKOB
38 BELLO RABI MOHAMMED
39 SHAFIU AWWAL MUHAMMAD
40 BIVAN STEPHEN
41 JA'AFARU DANLAMI
42 BENJAMIN IKE IKE
43 AMAECHI AMAECHI DESTINY
44 MUSA EJURA CHRISTIANA
45 DANJUMA HAPPY SUNDAY
46 OKWOLI CHARLES-LWANGA YAKUBU
47 HOSEA DAUDA
48 AHMED AISHA
49 LAWAL OZIOHU HALIMAT
50 CHUKWUDULUE CHIOMA MARGARET
51 OSEAFIANA CHIDIEBERE KENDRA
52 NGATUWA ANAATI INNOCENT
53 ALAGWU PASCHAL NNAMDI
54 CHOJI DAVOU ZAKKA
55 OBOCHI SAMSON BABA
56 KOROSI JESSICA ANDREW
57 MAKANJUOLA ADEDAMOLA OLUFUNMILOLA
58 ADZE YOHANNA USMAN
59 EGBA CLEMENTINA OVAT
60 GAIYA COMFORT BABOSHIA
61 MUSA SANI
62 UTHMAN ALHAJI LADAN DOKO
63 NIMYEL SEKYEN DINDUL
64 MAILAFIYA ELIZABETH GEBIRI
65 AMODU DANIEL AZE
66 AGADAIGHO ANNIBEL OKOEDOH
67 BARNABAS RUTH
68 BUKAR GATA
69 ADAMU SUSAN ESTHER
70 IBRAHIM AMINA MATTHEW
71 OKHAMERA ROSEMARY AIMIOSINOR
72 INYANG OFFONIME IME
73 HARUNA PAUL
74 NZE BRIGHT UDOKANMA
75 NJOKU CHIEDOZIE UZOMA
76 NASIR SAUDATU MAMMAN
77 and more
Tags:
CASPIN 2017